AMD introduces the first graphics cards based on the chipset GPU Navi31. The cards should be in stores from December 13th.
AMD Presentation Radeon RX 7900 XTX (Image: AMD)
The two new Radeon graphics cards RX 7900 XT and RX 7900 XTX should be available from December 13th – from AMD as a reference design and from the board partners. AMD's recommended retail price is $999 for the RX 7900 XTX with 24 GB of GDDR6 graphics memory and $899 for the weaker RX 7900 XT with 20 GB. Then there is the value-added tax, so higher prices of at least 1210 or 1090 euros can be expected in Germany, depending on the dollar exchange rate. Given the differences in specifications and the assumed difference in performance, the difference in price is too small, and the RX 7900 XT too expensive.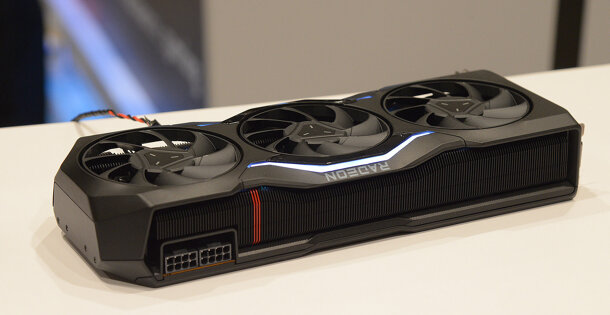 Gaming performance in high definition
With up to 61.6 TFlops of computing power at a 2505 MHz boost clock and revised architecture (see below), AMD 4K gamers see the new Radeon as well equipped. So far, however, AMD has only announced relative performance values ​​​​compared to the RX 6950 XT for the Radeon RX 7900 XTX. In games with an Ultra HD resolution of 50 ("Call of Duty Modern Warfare II", "Watch Dogs Legion") to 70 percent ("Cyberpunk 2077") it is said to be faster than its predecessor. If ray tracing is used, the lead is only 50 ("Resident Evil: Village", "Metro Exodus Enhanced") to 60 percent ("Doom Eternal"), in individual cases like "Dying Light 2: Stay Human" including upscaling technology FidelityFX Super Resolution (FSR) but up to 85 percent.
Otherwise, concrete performance information was only available with the upscale FSR, which significantly increases the image rate but reduces the image quality. Nvidia had already proceeded in a similar way when introducing the RTX 4000 graphics cards, where numbers without the FSR competitor DLSS were also scarce.
With the values ​​mentioned, the RTX 4090, which costs around 2000 euros+, should be out of reach, so the true opponent of the Radeon top models will probably be the GeForce RTX 4080, which will be available on November 16th, needs 320 watts and should cost 1469 euros. Here the comparison should be in favor of AMD, as long as no ray tracing is used.
Radiance: Monitors with 8K and hundreds of Hertz
In the first presentation, AMD draws attention to the display engine called "Radiance" as a unique selling point, which – unlike Nvidia's RTX 4000 – already meets the DisplayPort 2.1 specification. With 1.35 gigabits per second and lane (54 Gbps in total), it controls 4K screens with 480 Hertz, 8K monitors with 165 Hz. With Nvidia, 240 or 60 Hz is the end. The Radeon RX 7900 XT and XTX have two DisplayPort 2.1 ports and a USB Type-C output, as well as an HDMI 2.1 socket.
With these enormous refresh rates, for which the first monitors are not expected before 2023, AMD wants to specifically target e-sports enthusiasts. In "Valorant", "Overwatch 2" and "Apex Legends" you can reach the frame rate limits at 833, 600, and 300 fps with "e-sports settings" (1440p, medium and low details) according to AMD.
AMD doubles the media engine so that it can work on two streams at the same time. The hardware now also decodes and encodes AV1 videos, which leads to better picture quality, especially at low bit rates.
Navi31 with 7 graphics chips
The heart of both graphics cards is the Navi31 MCP or multi-chip package. It combines the central, 300 mm² graphics compute chip, which includes the execution units, the command processor, and the media and display engine, with six 37 mm² small memory cache dies. These each provide 16 MB, so together up to 96 MB Infinity cache, and are manufactured in the proven 6-nanometer process from TSMC. TSMC manufactures the graphics compute chip in the newer 5 nm process.
The memory subsystem including 96 MB Infinity Cache is said to work up to 2.7x as fast as the RX 6950XT and achieve a combined read/write throughput of 5.3 TB/s, of which 960 GB/s is attributable to the GDDR6 memory. For comparison: Nvidia's L2 cache on the GeForce RTX 4090 has been able to elicit 2.7 TB/s so far.
The 96 compute units get a new structure, but AMD is currently still saving on details. If possible, the two groups of two times 32 shader ALUs are supplied with several commands (VLIW2), which can increase the throughput. To do this, however, the shader compiler must extract instructions from the data stream that can be processed in parallel (instruction level parallelism, ILP). If he doesn't do that, performance falls by the wayside. In addition, there is 50 percent more register memory, which all execution units have to share, however, so it could sometimes be tight here.
For the ray tracing units, AMD has integrated support for DXR Ray Flags and increased the throughput and the execution window by 50 percent. The box sorting and ray traversal functions have also been revised.
There are also two so-called AI engines, for which support for the 8-bit integer format and bfloat16 has been built in and which, according to AMD fellow Sam Naffziger, are currently designed for gaming use. Rather, they are probably powered by AMD's FSR 3 with AMD Fluid Motion Frames, which, similar to Nvidia's DLSS 3, should insert artificially generated frames between the rendered images (frame generation) – but AMD did not want to give any details yet.
| | | | | |
| --- | --- | --- | --- | --- |
| Technical specifications | Radeon RX 7900 XTX | Radeon RX 7900 XT | GeForce RTX 4090 | GeForce RTX 4080 |
| shader cores | 6144 × 2 | 5376 × 2 | 16384 | 9728 |
| boost clock | 2.505GHz | 2.40GHz | 2.52GHz | 2.51GHz |
| Game clock (base clock) | 2.30GHz (1.90GHz) | 2.00GHz (1.50GHz) | 2.23GHz | 2.21GHz |
| Computing power (boost) | 61.6 TFlops | 51.6 TFlops | 82.6 TFlops | 48.8 TFlops |
| Standard memory configuration | 24GB GDDR6 | 20GB GDDR6 | 24GB GDDR6X | 16GB GDDR6X |
| Memory interface width | 384 bits | 320 bits | 384 bits | 256 bits |
| last level cache | 6 16 MB (L3 cache) | 5 × 16 MB (L3 cache) | 12 × 6 MB (L2 cache) | 8 × 8 MB (L2 cache) |
| TDP | 355 watts | 300 watts | 450 watts | 320 watts |
| Price | $999 plus tax (approx. €1210) | $899 plus tax (approx. €1090) | 1949 euros | 1469 euros |
Show table
Externals
AMD provides a 2.5-slot cooler with three axial fans in the reference design, similar to the Radeon RX 6800/6900 XT. With a length of 287 millimeters, the RX 7900 XTX is 11 millimeters longer but still fits in most gamer cases. At 276 millimeters, the Radeon RX 7900 XT is just as long as the RX 6900 XT.
Both cards have a PCIe 4.0 x16 connector and are supplied with additional power from the power supply via two conventional eight-pin plugs. The total board power, i.e. the maximum expected, permanent power consumption, is 355 watts for the Radeon RX 7900 XTX and 300 watts for the XT version. On paper, the top model is therefore significantly more frugal than Nvidia's flagship GeForce RTX 4090, which consumes 450 watts.